Gina Niemann
Science Department Chair
STEM/Science Olympiad Team Coach
Boys & Girls Tennis Coach
gina.niemann@carrollcountyschools.com
770-562-3218
Courses Taught:
Honors Biology
Biology
AP Environmental Science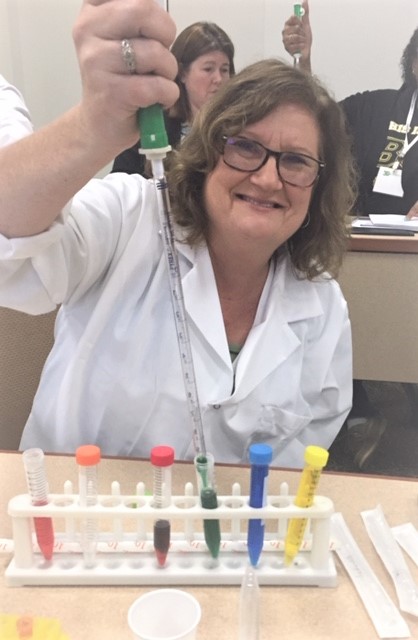 Hello Tigers,
Thank you for visiting my page! I've been in education for 17 years. This is my eighth year at Temple High School and my sixth year as our Science Department Chair. I teach Biology, Honors Biology and AP Environmental Science classes. In addition, I coach our STEM/Science Olympiad Team! If your student is interested in information about the team, please contact me. Our "season" runs from mid-September to the end of February.
I co-coach out THS Tennis Teams.Any students interested in joining the Tennis Team can send me an email or drop by my classroom. Interest meetings will be in December and the The Tennis season will begin in January.
A little about myself-
I grew up in the suburbs outside of Chicago. My passion for science began long before I can even remember. One thing I am thankful for was the wonderful science teachers that inspired me with hands on experiences that directed me to get a Bachelor of Science Degree in Biology from Illinois State University. For many years I worked in the research field before deciding to get my teaching certification.
I have been married for over 30 years to Kevin Niemann and we have three sons. My "human" children are all grown up, but I do have a "fur" baby. My dog, Jarvis, is a soft-coated wheaten terrier with a big attitude. A few years ago we were blessed with a "new addition" to our family! William Niemann, is my first Grandbaby! He is two years old and a ton of fun!
Outside of the classroom, I enjoy traveling, gardening (trying to get my garden Pollinator Certified!), nature, cooking, Sci-Fi TV and movies! I LOVE SCIENCE and the best part of my job as a teacher is sharing my excitement in learning new science ideas and concepts with our students. My goal is for our students to be science literate and understand the processes of science in today's world!
Please Watch the Intro to Biology Presentation (Google Classroom Join Codes and Remind Text Join Codes can be found in the presentation)
The Presentation ABOVE has a link "Intro to Biology" which goes through the process of joining your google classroom. The Google Classroom Join Codes can be found on that presentation AND in a Document that is further down on this page!
Required Materials
1. Binder (1 ½ or 2 inch) OR a quality pocket folder with prongs.
2. Dividers for Binder
4. Pencils
5. Highlighters (two colors)
6. Colored pencils or crayons ---diagrams/models will need to be colored.
7. Scissors
8. Glue Sticks
9. Earbuds or headphones that are compatible with chromebooks (for in class use only)
1
1
AP AP Environmental Science and Honors Biology Classes will also need: 1 Gallon of Distilled Water and 1 Roll of Paper Towels
A
*Highlighters, colored pencils, scissors, and glue sticks are available for use in the classroom but it is the student's responsibility to sanitize items BEFORE and AFTER use if they do not bring their own supplies.
*It is highly recommended that students try to have their own supplies.